The Wonderful World of My Little Dibbykins Part 2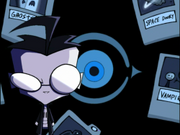 [Shows Title Card]
The Kitchen: Dib, Violet, Jade, Beck, Cat.
[
]
Dib: *Looking at oven* I don't think we can save this cake...
Violet: *Also looking in the oven* You're right, I didn't put enough eggwhites in it...
Jade: *Just randomly comes in throught the window* Hey there Dibbykins!
Dib: How many times do I have to say don't call me Dibbykins!
Jade: Zim's in the hospital, he had an allergic reaction, and his tongue is 3 times larger than it should be. He tried to tell me, but all that came out was 'blblblbaablakblakdlbbla'
Dib: And that makes you think you can just come in through my window and call me 'Dibbykins' why?
Jade: Awe, but it's my little nickname for you!
Dib: But I don't like it...If you were going to give me a nickname, couldn't you give me one that I liked, and agreed on first?
Jade: Nah, I want to call you Dibbykins.
Dib: *facepalm* You really aren't getting it...
CAT: *Comes in the window* HEY THERE! WAHEEHAHA!
Beck: *was apparently at Dib's house for no apparent reason* Why you talkin' to my lady Dib? She ain't yours! She's mine! MINE! MINE! MINE!
Dib: You can have her! I don't want her.
Beck: Oh, so she's ugly?
Dib: I never said--
Beck: So you want to do stuff with her?
Dib: No I mean--
Beck: You want to kill her in a gasoline fire?
Dib: No I'm trying to--
Beck: You want to hit her with a rake?
Dib: NO GLOB GAMMIT! YOU CAN HAVE HER! SHE'S PERFECT FOR YOU, YOU PUNKBUTT!
Beck: You're darned right me and Jade are!
Dib: *groans in frustration, then facepalms* You two are idiots...
Beck: No we aren't, would an idiot name their kids Cheesepuff and Applesauce?
Dib: Yes, yes they would.
Violet: *Pulls the cake out of the oven* It's lopsided and burnt....
Dib: *falls on knees* NOOOOOOOOOOOOOOOOOOOOOOOOOOOOOOOOOOOOOO!
Stay Tuned For The Next Episode...