Jurassic World: Dominion Dominates Fandom Wikis - The Loop
Play Sound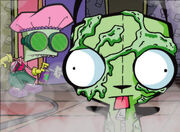 *May contain stuff from some unaired IZ episodes

[Shows title card]
Jade: *runs up to Dib* Hey Dibbykins!
Dib: Don't call me that!
Jade: Awes, why not? Pwease?
Dib: Don't be cutesy with me Jade, I'm not in love with you! I love Violet!
Jade: That smelly faced witch? Ugh! JADE WILL DESTROY HER AND ANY HYOOMAN PIG-SMELLIES WHO TRY TO COME BETWEEN JAADE AND DIB! I WILL GET YOU TOO FALL FOR ME DIB MEMBRANE! I SWEAR ON MY SQUEEDLY-SPOOTCH!
Dib: *weirded out* Oh-kay...
Violet: *comes over to Violet* Hey Dib
Jade: Ugh! Stay out of this you smelly pig face!
Violet: Uh-uh sistah! You did not just call me a pig face!
Jade: JAADE THINKS SHE DID!
Violet: Well Jade just bought herself a beating!
Jade: Did I get a good deal on it?
Violet: Don't you say another word Irken scum!
Jade: *gets in Violet's face* Word!
Violet: That is it! *starts pulling Jade's fake hair*
Jade: That doesn't hurt me!
Violet: *Punches Jade really hard*
Jade: Ouch! QUIT IT! DIB IS MINE!
Violet: NO HE IS NOT! HE'S MY BOYFRIEND!!!!!
Dib: It's true, we've been dating for a really long time, for two years and three months.
Jade: But Dibbykins! Don't you love me?
Dib: No, I don't.
Jade: Fine! But I swear Dib Membrane, you will love me! YOU WILL!
Zim: NO SISTER OF ZIIM'S IS GOING TO LOVE A BIG HEADED LOSER LIKE DIB! I'm not sure why Violet likes him, cause I want Violet
Dib: MY HEAD IS NOT BIG! AND STAY AWAY FROM MY GIRLFRIEND! *starts fighting Zim*
Zim: *getting beaten up by Dib* STOP! IT HURTS! AGGGGH!
Gaz: *In the Distance* WHINER!
Dib: *stops beating up Zim* Fine, I'll stop. You Jerk.